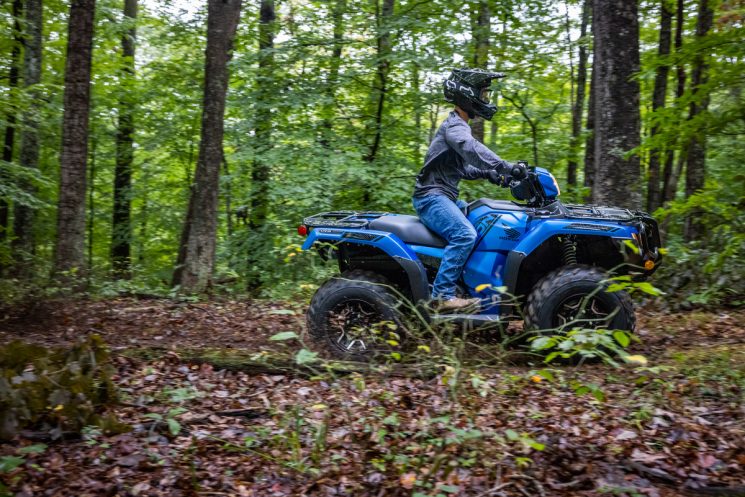 When it comes to securing a vehicle that is both robust and efficient for your off-road adventures, the Honda Rubicon 520 ATV stands as an exceptional choice. With pricing options at $13,397 for the DCT IRS EPS and $13,897 for the DCT DELUXE variant, including freight, PDI, and other fees but excluding taxes, it offers great value for the wealth of features it comes packed with. Here we explore five compelling reasons why this ATV should be at the top of your list:
Impressive Engine Performance
The heart of the Rubicon 520 is a powerful liquid-cooled 518 cc engine which is longitudinally mounted to maximize drivetrain efficiency. This engine not only offers a substantial power output but is also designed to maintain a consistent operating temperature under extreme conditions, ensuring longevity. Additionally, the overhead-valve design augments ground clearance while providing a broad, easy-to-use powerband. Its rubber-cushion mounting and gear-driven counter-balancer work harmoniously to diminish vibration, making for a smoother ride.
Exceptional Efficiency
The Rubicon 520 showcases remarkable efficiency, sporting convenient electric starting complemented by an automatic internal-decompression system, and a recoil starter as a backup, ensuring you can get going without any hassle. Moreover, its Programmed Fuel Injection (PGM-FI) enhances power delivery and throttle response, while concurrently boosting fuel efficiency for an extended range.
Quiet and Comfortable Ride
Not only is this ATV a powerhouse, but it also prioritizes your comfort. With a sub-chamber in the air cleaner to reduce resonant noise and a stainless-steel exhaust system designed for quiet operation, it ensures a noise-minimized ride. The integration of an electric reverse shift lever adds to the comfort, allowing easy selection of reverse gear without removing your hand from the handlebars, proving to be a boon especially in tight maneuvering spaces or during plowing.
Advanced Capability for Tackling Any Terrain
Prepared to conquer any terrain, the Rubicon 520 comes equipped with a 2WD/4WD system that offers three different drive modes to optimize traction. Additionally, it features a Speed Override mode that can be activated when the front differential is locked, permitting increased wheel speed under harsh conditions like deep mud, thus enhancing its off-road capabilities.
Innovative Tech and Excellent Towing Performance
Outfitted with modern full-function instrumentation, this ATV keeps you informed with a dash that displays vital information including speed, odometer, fuel gauge, and more at a glance.
Furthermore, its Pro-Connect™ Rack System not only facilitates easy and tool-free mounting of accessories but also provides impressive load and towing capacity, making it a reliable companion for towing and transporting goods.
With a blend of exceptional reliability and performance, the Honda Rubicon 520 ATV stands as a prime choice for both adventurers and workers alike. Its combination of power, comfort, and advanced technological features affirm its position as a trustworthy and efficient off-road vehicle, offering value well beyond its price tag. If you are seeking a versatile, rugged, and comfortable ATV, the Honda Rubicon 520 is well worth the investment.