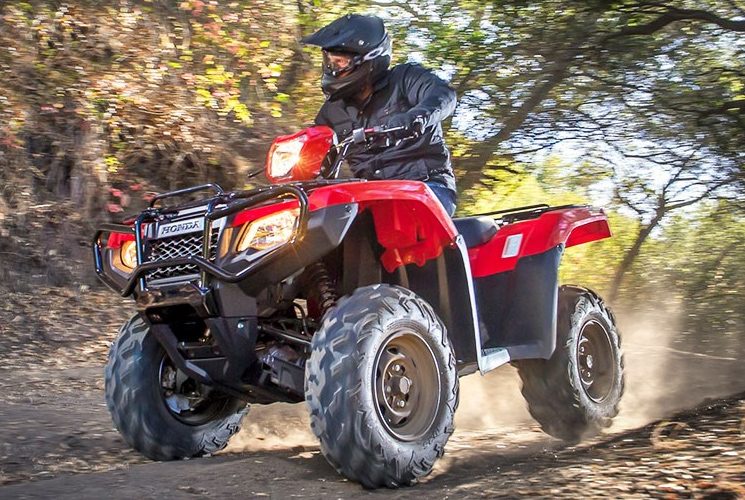 Take on any challenge with the Honda TRX 500 Rubicon DCT IRS EPS. This ATV accompanies you in all your adventures thanks to its unique characteristics which will impress you in all circumstances.
Equipped with a powerful 475cc four-stroke liquid-cooled engine, the Honda TRX 500 Rubicon offers maximum efficiency, improved ground clearance and reduced vibration for even more enjoyable driving. Thanks to the electric starter, you start quickly and easily. The energy efficiency and the durability of the engine allow you a better autonomy.
The ATV TRX 500 Rubicon has an automatic dual-clutch transmission (DCT) that is compact, robust and practical. This allows an automatic gear shift that choose between two transmission shifting modes—either Cruise or Sport. It also allows you to use the exclusive Honda Electric Shift Program (ESP) for easy shifts. Thanks to one-handed reverse shift mechanism, you can select reverse without having to let go of the handlebars.
The ATV Honda TRX 500 Rubicon DCT IRS EPS is suitable for all terrains. Its 4-wheel drive with locked front differential optimizes traction and increases wheel speed in tough conditions such as deep mud. Lightweight and handy, it also provides excellent stopping power and excellent lighting for superior visibility in the dark.
In addition to sustainable performance, the TRX 500 Rubicon offers comfortable driving thanks to quiet operation, lighter steering and the ability to plug in electrical accessories and electronics. The full-function instrumentation as well as larger and thicker seats than most utility models also contribute to your comfort.
To learn more about the Honda ATV TRX 500 Rubicon DCT EPS IRS, contact Excel Moto by phone, via our online form or visit us in dealership in Montreal. Our team will be happy to welcome you and tell you more about all new and used models of ATVs!